Africa Fund
On 8th September 2018, St Margaret's Parish launched an Africa Fund to finance the education of four young men from Ghana in West Africa. Three others were added later. Current students are:
Ali Latif
Now aged 24, Latif is from Techiman and is in his third year of a B.Ed. course at Atebubu College of Education. He began his studies in September 2018 and was one of our original sponsored students. He will begin a four-month internship in Ashanti Region later in 2021 as part of his course.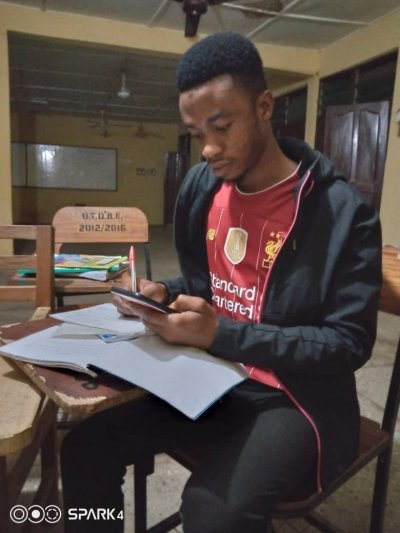 Photo taken September 2020.
Alankpari Habib
Habib (who is also known as Augustine) is now 27 years old and is from Kulunso in the Northern Region of Ghana. He is another of our original students and in 2019 began a three year Bachelor of Education (Arts) course at the University of Cape Coast, Ghana. His subjects are Religion and Human Values and History.
Habib is visually impaired and our support for him includes equipment for the partially sighted and braille sheets.
Ambrose Amankwaah Emmanuel
Emmanuel is from Mpasatia in Ashanti region and is now 23 years old. He is also one of our original students. He began an HND course in Marketing at Sunyani Technical University in 2019 and is about to enter his final academic year.
Atta Robert Afena
Robert was added to our sponsorship list at the beginning of 2021.He is 23 years of age and is from Techiman. Robert was admitted to the Kwame Nkrumah University of Science and Technology in the 2020/21 academic year to study Accounting and Banking.
Atta Rudolf Afena
Rudolf is Robert's brother and is also 23. He enrolled in a course of Geomatic Engineering at Kwame Nkrumah University of Science and Technology in Kumasi in 2017 and is now in his final year.
Atta Raymond Afena
Raymond is the brother of Robert and Rudolf, also 23 years old. He is in his final year of a degree course in Electrical and Electronic Engineering at the University of Energy and Natural Resources (UNER), Sunyani.
Students who have completed their studies with support of the Shetland Parish.
Bayodzeba Stephen - Completed a degree program in Industrial Art (Textiles) at Ho Technical University, Volta Region, Ghana.
"How can I help?"
If you would like to contribute to this fund for African students, please make a cheque payable to "RCDA Lerwick No. 2 a/c" and mail it to:
Africa Fund, 87 St Olaf Street, LERWICK, Shetland, ZE1 0ES.
Even more useful would be a monthly standing order through the bank. If we had ten people contributing ten or twenty pounds a month we could guarantee enough funds to see these students through the duration of their course.
Fr Ambrose will be happy to supply the bank details for a Direct Debit order. He can be reached through the parish e-mail: [javascript protected email address]
You can also make a cash donation using the wall-safe at the back of the church.
So far we have raised over EIGHTEEN THOUSAND POUNDS in support of these students. Thank you!