Events
Year of St Joseph, 8th December 2020 - 8th December 2021.
The Holy Father has issued an Apostolic Letter, "Patris corde" ("With a Father's Heart") to launch the year of St Joseph. The official Vatican text is given below:
papa-francesco-lettera-ap_20201208_patris-corde.pdf
Midnight Mass at St Margaret's, 25th December 2020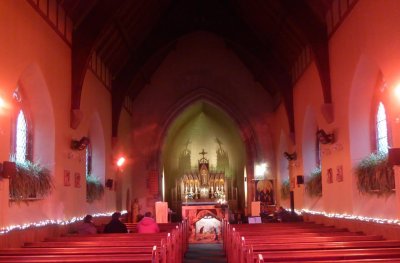 The Church before people started to arrive. The red glow comes from the Quartz heaters. In place of sung carols this year we had musical versions played by the music group on organ, guitar and Shetland fiddle.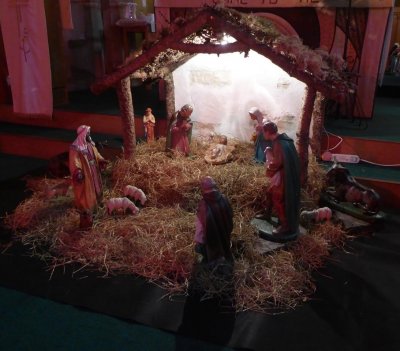 Our crib set has been a part of the parish Christmas celebrations since the Jesuits took over the parish in 1954.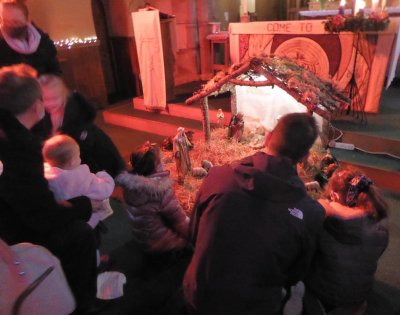 James Harper, R.I.P.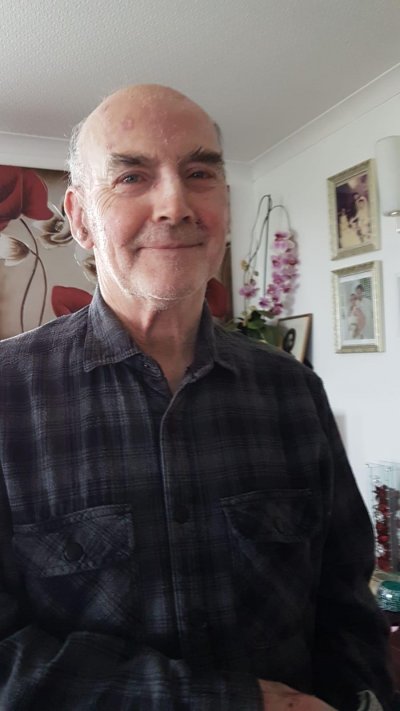 James Harper died peacefully on 11th September 2020 at home in Sumburgh, surrounded by his wife Winnie and family.
James was born in Fraserburgh on 10th May 1954 to Jim and Maggie Harper before moving to Shetland where he grew up. He married Winnie in the Philippines in 1980 and they returned to Shetland to raise their family.
James was a dedicated husband and father who worked hard to support his family. James spent many years working at the airport where he started and finished his working career. He enjoyed travelling, whether this was taking the whole family around Europe or on one of his many holidays with Winnie. James also liked keeping busy in the garden and shed where he would disappear to feed the cats and have a sherbet with the radio on. Just like his father, he was skilled and practical with his hands and loved fixing or building things. He enjoyed music and loved going to see live bands with Winnie. He also had a passion for boats.
Dad, we love you and know you are with us forever in our hearts and minds. - Winnie and the children.
Margaret Stuart Robertson,R.I.P.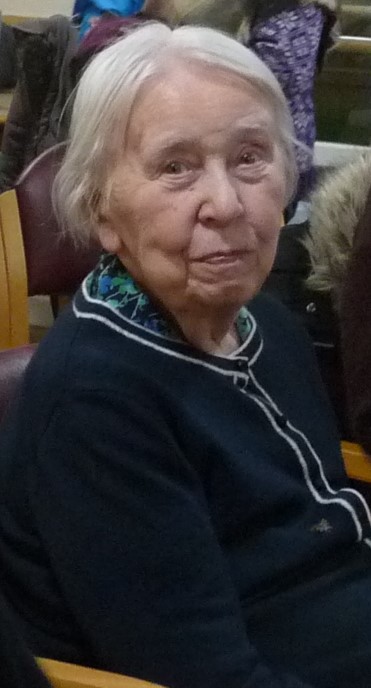 Margaret Robertson died peacefully on 9th September 2020 at Taing House, Lerwick. She was 91.
Margaret was born in Gosforth, Newcastle upon Tyne, and worked on the staff of the Newcastle upon Tyne City Library for a number of years. She moved to Shetland in 1970 when she married Lindsay Robertson of Lerwick. It was a return to her roots since her great grandfather, Robert Henry, had been born on Foula. Margaret retained a strong interest in history and compiled "Sons and Daughters of Shetland, 1800-1900", a biographical dictionary of prominent Shetlanders, which was published in 1991 and still remains a major reference work for Shetland history.
The funeral will be on 16th September and she will be buried with her husband Lindsay. May she rest in peace.
Mike Loynd, RIP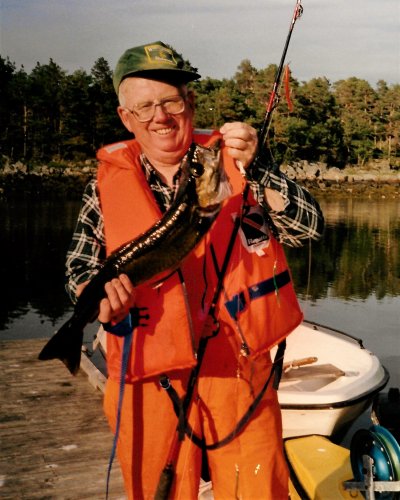 Michael Loynd died peacefully on 2nd July in the Gilbert Bain Hospital, Lerwick. He was 77. Mike was an active parishioner and was also a member of the diocesan Heritage Commission. Always a keen fisherman, he is pictured here on holiday in Sweden with a pike perch.
For the past 20 years Mike has been struggling with Parkinson's. His son, Michael Loynd, has set up a JustGiving page in his memory to support the work of Parkinson's UK. It has already raised over 600 pounds in Mike's memory.
Parishioners in Lockdown
GARDEN MASS IN AITH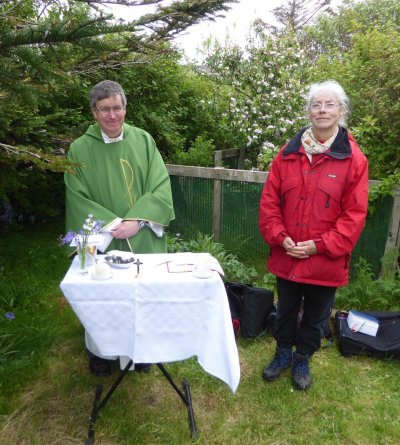 The lifting of some of the restrictions have opened up the possibility of single-household garden-Masses. The bluebells and apple-blossom are a welcome sight after 10 weeks spent indoors. This was the first of the outside Masses. The next four days were cold and wet ...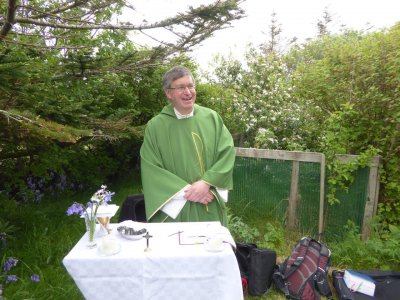 We plan to reopen St Margaret's for private prayer on Sunday 21st June. Regular Masses are expected to resume in July.
PENTECOST IN NORTHMAVINE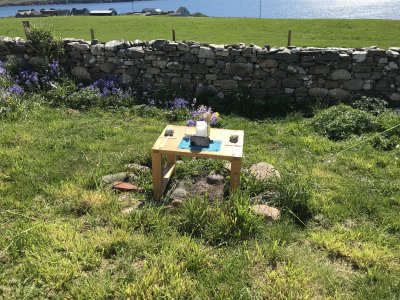 * * * EXHIBITION PIECE
"Thought I would share some exciting news with the parish The Jennifer Lauren Gallery supported by the Manchester International Festival currently have a virtual Exhibition of Virtual Art. It is called Art Unlocked Unearthed. The local Gallery ' Gaada' where I work submitted a recent screenprint of mine. This was the first time i had a piece of my work submitted for a exhibition. There were around 200 entries from all over the world. 25 were selected and a additional 5 artists from Manchester. I was thrilled to have my Art selected. It is a screenprint - making me invisible. I am not allowed to share during the time of the exhibition. It can be seen at
This is opening up lots of new opportunities for me. Exciting. Hope you enjoy the exhibition." - Joyce
Joyce recently celebrated her 60th birthday in Scalloway.
* * * WEAVING IN LOCKDOWN
Listening to Plain Chant - it is so soothing, I started weaving "Through the Window"on Palm Sunday and now six weeks later it is finished.
I had to leave off to do other things, but having bought the frame in 2017 I'm pleased lockdown and self isolation gave me the time to do it Keep safe, Glenda.
* * * VE DAY IN LERWICK
Celia has shared this video of Brownie celebrating the 75th Anniversary of the end of the second world war on 6th June 2020. Brownie is in a care home, so the celebration had to be on two sides of the window.
* * * A LOCKED-DOWN MARINA
I rather missed the big excitement during lockdown … I'd been suffering from a pelvic infection, with an operation due on 13th March. Suddenly in the last days of February the infection went out of control and I had to turn myself in to the Gilbert Bain Hospital in Lerwick for an emergency procedure before being flown down for the big op. There's no wifi in the Aberdeen Royal Infirmary, so all my news from then on was carefully screened by my concerned relatives. Gradually I heard about shops running out of basics, grandchildren out of school, social distancing and 'stay at home'; visiting hours were restricted, then visitors stopped altogether. They set up wifi then, so I was able to see the news for the first time in three weeks, and it was a nasty shock to see the death toll.
I'd had all sorts of plans for pre-hospital organisation. Cooking and freezing meals; cleaning; and, most importantly, taking him down to the marina and taking him through the starting procedure for my boat engine - engines don't like being left for too long. I managed a few meals, but not the really vital bit, the boat. That was how it came about that within a couple of days of being home, our car sneaked down to the marina, Philip helped me totter along the pontoon and get over the guard rail, and the engine was duly run. I sat back and watched as Philip baled out the bilges, on the grounds that my baler is heavier than a half-filled kettle.
The very next day I got a stern NHS letter: I wasn't to leave the house at all. That was in the nice days in April, so I pottered gently in the garden. I tidied up the flower beds, looking wistfully down at the marina, only two hundred metres across the wall. It was very strange not to be antifouling and varnishing - it must have been the first time in over forty years that I've not spent April with a varnish brush in hand.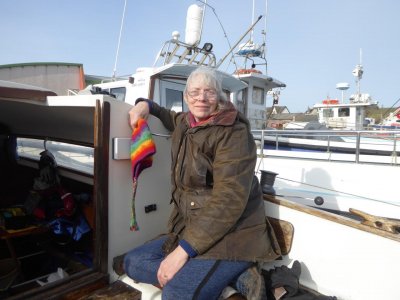 Then my doctor, bless him, phoned to say he'd taken me off the 'don't go anywhere' list now my op was several weeks ago. It would do me good, he said, to be able to get out and walk. I totally agreed. I did a trial walk round the village on Philip's arm, then one walking by myself, and after that there was no holding me. Just going for a walk, just happened to be carrying this bucket with hot soapy water in it … The RNLI had asked that we didn't leave the marina, but there's always plenty to do aboard a boat. I fixed all the little 'must get round to that' niggles.
My first solo drive was down to the marina with her cushions and books, so that she'd look like herself again. After that I began varnishing the woodwork on the outside; there's a fair bit still to go, a proper wash, painting the coloured areas on deck, polishing the white bit of hull … I won't run out of boat jobs any time soon.
Restaurant-at-Home Wednesdays are an innovation which I hope will continue: a specially-nice three course meal in the conservatory, with tablecloth, lit candles, suitable wine and chocolate to follow.
The thing we miss most is Mass. We watch the one from St Joseph's at 11, and think of Father Ambrose in our own St Margaret's, and enjoy seeing Bishop Hugh smiling at us from the screen, and try our best to convince ourselves that we've been to Mass, but it's not the same. I pause in my scrubbing and varnishing at noon to sit on the engine-box cover and pray my way around all the pews in St Margaret's, and in Voe, but of course it's not the same. We're really looking forward to us all being together again, someday - in God's good time, which will be the right time. - Marsali.
* * * CYCLING ... AND KNITTING FRACTURES
The last five weeks of the lockdown period have been interesting for our household! As many of you know Hilde managed to crash her electric bike in April resulting in fractures to her left knee, left wrist and right arm. Having had to leave Pete at the hospital door, she was flown to Aberdeen for surgery on the wrist, and a brace on the leg, and conservative treatment for the arm, flying back to Shetland a week later to the Gilbert Bain. Pete drove to Tingwall airport hoping to catch a glimpse of her being transferred from plane to ambulance, and the ambulance men were kind enough to let them meet for a few minutes....so romantic!!
Two more weeks in Ward one being wonderfully cared for, reaching small milestones like being hoisted in a wheelchair, or getting dressed, learning how to cope with complete dependence on others.
Meanwhile at home in Cunningsburgh, Pete wasted no time in preparing our house so that Hilde could have access and come home as soon as possible. He knocked down our large peat shed, and organised for a long ramp to be built to the front door. He took out some doors and bookshelves inside, and a hospital bed and other equipment was delivered.
Two weeks later Hilde got home, and Pete's hard work really began! Hilde can do very little for herself and has no mobility yet, so we have been very grateful that grandaughter Eva 15 has come to live with us and she is a great help to us. In all this time, the love and prayers and support of family and friends have made, and continue to make a tangible difference for us both in coping with these life-changing circumstances. It is going to be a long haul before life becomes more normal, but we try to live it one day at a time, asking , as in the old hymn, for enough grace, "just for today". - Hilde & Pete.
Coronavirus Outbreak (COVID-19)
In common with all other Catholic Churches in Scotland we shall be suspending all public Masses from Thursday 19th March. The Pastoral Letter and Statement of the Scottish Bishops re. Covid-19 virus is given as a PDF file below:
pastoral-letter-and-statement-of-bishops-re-covid-19-final.pdf
Second Concert for Africa, 12th September 2019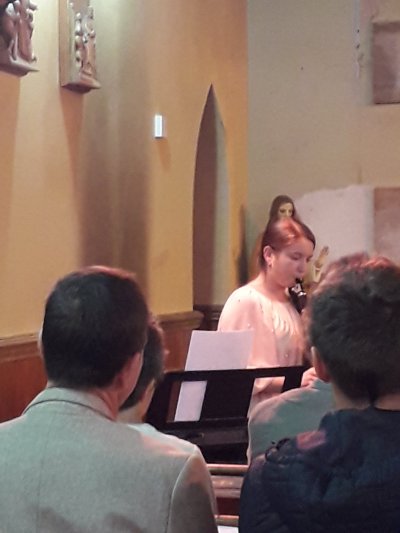 We held a fundraising concert for the four Ghanaian students our parish are sponsoring through their tertiary education in the form of a "Songs of Praise" evening of hymns and poems. It was a huge success and raised a total of GBP 864.50 for the Education Bursary Fund. Since we began fundraising in September 2018 the parish has raised over five thousand pounds for this cause. More details of the students we are supporting will be found on the Africa Fund page. (See link in sidebar).
This evening concert was also the first time we used our new wall-mounted quartz heaters in the church. These were bought from money left to the parish by the late Wilma Laurenson of Lerwick.
Summer Pilgrimage to Bressay, 14th August 2019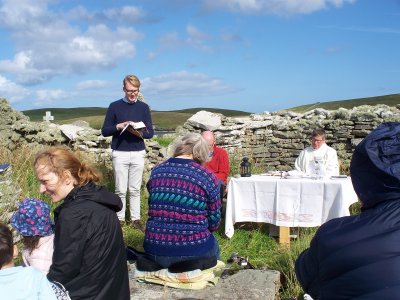 We celebrated a Vigil Mass of the Assumption of Our Lady in the medieval ruins of St Mary's Church, Cullingsburgh, at 3p.m. on Wednesday 14th August. This was an early Christian site and the 10th Century Bressay stone was found near here in 1852. We were blessed with fine weather and had a splendid day on the island. We were joined by Deacon Paul Rooney from Liverpool and seminarian Aidan Matheson from Scots College, Rome.
Seminarian on Summer Placement in Shetland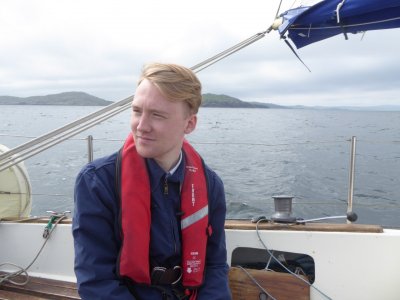 Aidan Matheson, who has just completed his first year of studies at Scots' College, Rome, was with us from 17th July until 27th August. He assisted with various apostolates around the parish and half way through his stay went sailing with parishioner Marsali Taylor. This photo was taken near Vementry. We wish Aidan well with the remainder of his studies in Rome.
Chapel for one opens on Yell
Parishioners Anne and Peter Dobbing have opened an inter-faith chapel in the grounds of their B&B at Gutcher. The "Sixteen Chapel" has been constructed from recycled and gifted materials and has caught the imagination of the press since it is large enough only for one person. An article in "The Times" credits it with being the U.K.'s smallest chapel.
The chapel was blessed by Fr Ambrose on 1st June during an inter-faith garden party. It is open daily to anyone seeking a place for quiet prayer or contemplation. Location: The Old Post Office, beside the ferry terminal, Gutcher, Yell.
Fr William Damah preaches Mission Appeal, 12th May 2019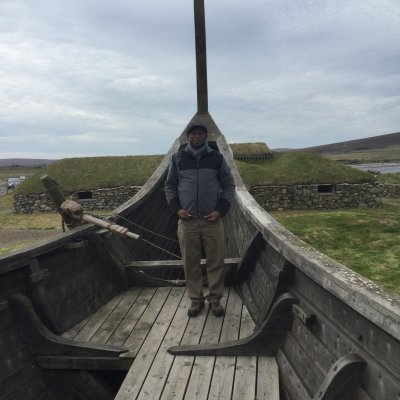 Fr William Damah, originally from Ghana but now working in the Diocese of Motherwell, preached at all Masses on 12th May on behalf of the Spiritan Missionaries working in Ghana. The appeal raised GBP 366.73.
On the following day we made an excursion to the island of Unst, the northernmost point of the British Isles. Fr William is pictured here on board a replica Viking ship at Haroldswick. The longboat was built with the intention of recreating a Viking voyage from Sweden to America and sailed as far as Shetland before being found unseaworthy! It has now taken its place in a display of Viking heritage in Unst.