Events
Advent Retreat Day on Papa Stour
The Advent Retreat Day will take place on Wednesday 4th December 2019. The theme of the reflection will be one of the Advent sermons of St John Henry Newman.
Second Concert for Africa, 12th September 2019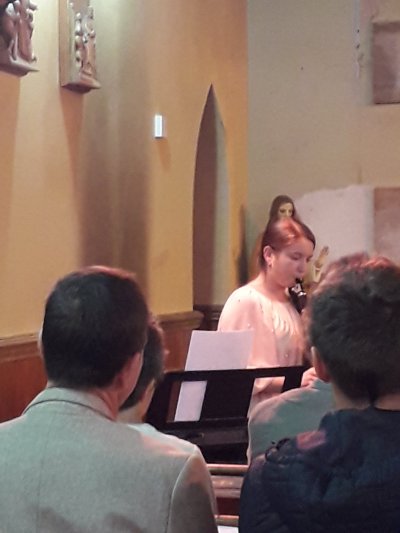 We held a fundraising concert for the four Ghanaian students our parish are sponsoring through their tertiary education in the form of a "Songs of Praise" evening of hymns and poems. It was a huge success and raised a total of GBP 864.50 for the Education Bursary Fund. Since we began fundraising in September 2018 the parish has raised over five thousand pounds for this cause. More details of the students we are supporting will be found on the Africa Fund page. (See link in sidebar).
This evening concert was also the first time we used our new wall-mounted quartz heaters in the church. These were bought from money left to the parish by the late Wilma Laurenson of Lerwick.
Summer Pilgrimage to Bressay, 14th August 2019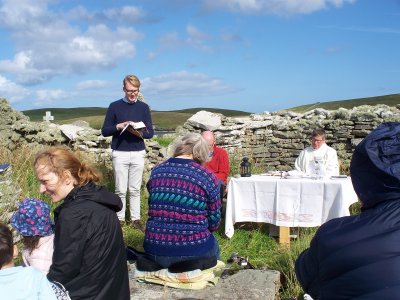 We celebrated a Vigil Mass of the Assumption of Our Lady in the medieval ruins of St Mary's Church, Cullingsburgh, at 3p.m. on Wednesday 14th August. This was an early Christian site and the 10th Century Bressay stone was found near here in 1852. We were blessed with fine weather and had a splendid day on the island. We were joined by Deacon Paul Rooney from Liverpool and seminarian Aidan Matheson from Scots College, Rome.
Seminarian on Summer Placement in Shetland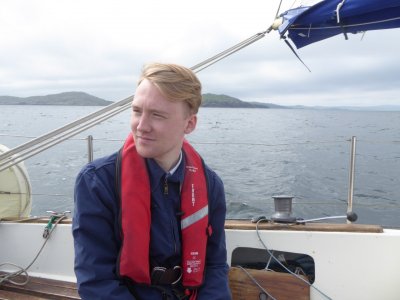 Aidan Matheson, who has just completed his first year of studies at Scots' College, Rome, was with us from 17th July until 27th August. He assisted with various apostolates around the parish and half way through his stay went sailing with parishioner Marsali Taylor. This photo was taken near Vementry. We wish Aidan well with the remainder of his studies in Rome.
Chapel for one opens on Yell
Parishioners Anne and Peter Dobbing have opened an inter-faith chapel in the grounds of their B&B at Gutcher. The "Sixteen Chapel" has been constructed from recycled and gifted materials and has caught the imagination of the press since it is large enough only for one person. An article in "The Times" credits it with being the U.K.'s smallest chapel.
The chapel was blessed by Fr Ambrose on 1st June during an inter-faith garden party. It is open daily to anyone seeking a place for quiet prayer or contemplation. Location: The Old Post Office, beside the ferry terminal, Gutcher, Yell.
Fr William Damah preaches Mission Appeal, 12th May 2019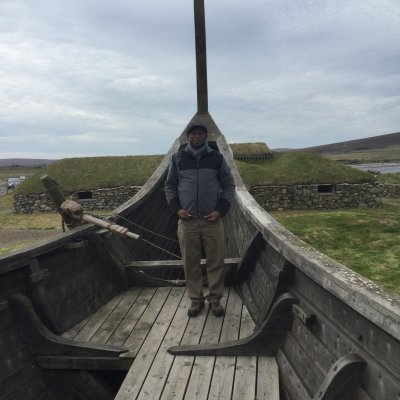 Fr William Damah, originally from Ghana but now working in the Diocese of Motherwell, preached at all Masses on 12th May on behalf of the Spiritan Missionaries working in Ghana. The appeal raised GBP 366.73.
On the following day we made an excursion to the island of Unst, the northernmost point of the British Isles. Fr William is pictured here on board a replica Viking ship at Haroldswick. The longboat was built with the intention of recreating a Viking voyage from Sweden to America and sailed as far as Shetland before being found unseaworthy! It has now taken its place in a display of Viking heritage in Unst.