Events
Canon Bill Anderson, RIP
Bishop Hugh wrote on 7th January 2018, "Canon Bill Anderson died peacefully yesterday, the vigil of the Epiphany and the day before his 87th Birthday.
Originally ordained for the Archdiocese of Edinburgh, he was incardinated into the Diocese of Aberdeen in 1991 after many years of teaching at Blairs College.
A gracious, erudite and sensitive priest, he inspired much affection and respect and helped many on their journeys through life.
May he reap his reward and rest in peace."
There will be a Requiem Mass in Aberdeen, celebrated in St Mary's Cathedral at 11.30 a.m. on Tuesday 30th January.
Up Helly Aa
Lerwick comes alive on the last Tuesday of January for the annual celebration of Up Helly Aa. The procession goes past the Church and presbytery and our parish room is a good vantage point for the burning of the galley. The parish room will be open to parishioners and friends from 6 pm to 9 pm. There will be supper of soup, bannocks and curry at no charge.
Marjorie Cavanagh (Fetlar)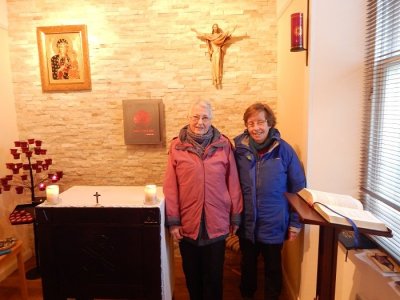 Marjorie Cavanagh was received into full communion with the Catholic Church on the 9th January 2018. She is pictured here (left) with her sponsor, Ann Dobbing, from Yell. Marjorie is living as a solitary on the island of Fetlar.
Farewell Party for Mark Boden
Mark Boden, Chairman of our Parish Pastoral Committee, will be retiring as Executive Director of the Shetland Islands Council at the end of this month and will be leaving Shetland in February.
The parish will be organising a farewell buffet-lunch for Mark after the 10.30 Mass on Sunday 28th January. All welcome.
Lenten Retreat Day on Papa Stour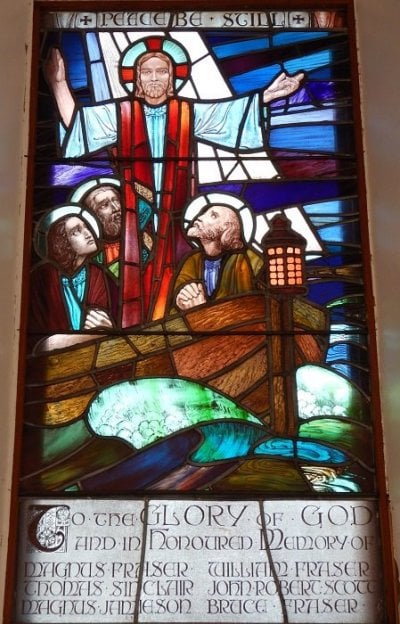 We are planning a parish retreat day on the island of Papa Stour on Wednesday 28th February, with Mass in the old kirk at about noon and time to explore the island. Pete and Hilde Bardell have a croft on the island which will be our base for the day, so even if the weather is poor there will be somewhere to shelter.
Because of the size of the ferry, numbers are limited to twelve and pre-booking is essential. We should be able to offer lifts from Lerwick for at least four people.
On Wednesdays there are ferries mid-morning and mid-afternoon so we would expect to be back in Lerwick by 6 pm.
Aberdeen Diocesan Pilgrimage to Poland, 9-16 July 2018
Bishop Hugh Gilbert, OSB, will be leading a pilgrimage to Poland this summer, centred on Krakow. There will be visits to Wieliczka, Wadowice, Czestochowa and Auschwitz. Please see the pdf file below for further details:
diocesan-pilgrimage-poster-1.pdf
Lourdes Youth Pilgrimage, 6-11 October 2018
This event is being organised by the Dominican Sisters in Elgin. Further details below: