Events
Online Service of Readings and Carols.
Bishop Hugh Gilbert will lead a diocesan Carol Service on Monday 20th December at 7 p.m. A variety of adult and children's choirs from around the Diocese of Aberdeen will take part.
The service will be live streamed on the St Mary's Cathedral Chanel on YouTube. A link is in the pdf poster below:
online-service-of-readings-and-carols-2021.pdf
"The Christmas Story" Zoom Course for Advent
COP 26, Glasgow Climate Change Conference
Anne has prepared a 34 slide presentation on "What is COP 26 all about?", which can be viewed here.
Care of Creation, October 2021
This document has been circulated by the Secretary General of the Bishops' Conference of Scotland. It gives practical advice to parishes to begin the process of becoming Laudato Si' Parishes:
laudato-si-parishes-practical-advice.pdf
Pilgrimage to Eshaness, 13th August 2021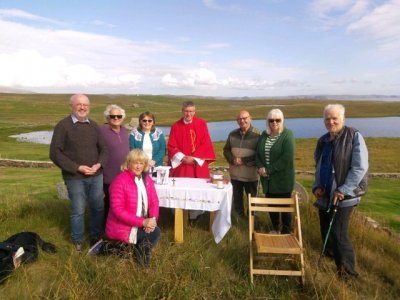 A votive Mass of the Holy Cross was said in the ruins of the medieval Cross Kirk at Eshaness as a summer pilgrimage. This chapel remained a place of Catholic devotion long after the Reformation.
Wedding of Emma Hopper and Brendan To at Blairs Chapel, 9th July 2021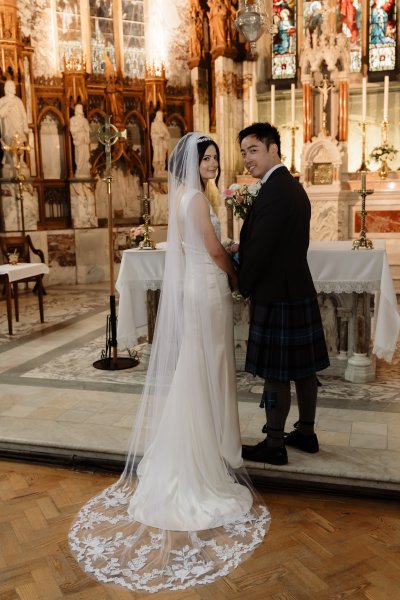 Emma, a parishioner from Ollaberry, married Brendan from Inverness at a wedding ceremony just outside Aberdeen in July. They have now settled in Shetland. Photo by Dani Rose Photography.
St Columba Pilgrimage, Shetland, June 2021.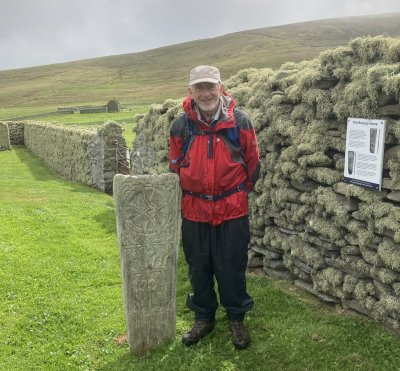 Fr Ambrose, Marsali and Pete took part in the Friends of the Holy Land 'Pentecost Challenge' as a fund-raiser for the education of Christian children in the Holy Land.
It began as a 'virtual pilgrimage' from Bethlehem to Nazareth by walking the equivalent distance (84 miles) along the length of the main island of Shetland from Sumburgh Head in the south to North Roe in the north. In the end it was 131 miles since there had been extensive detours to avoid traffic and to take in as many sites as possible associated with the early Christian history of Shetland. This year we are commemorating the 1,500th anniversary of the birth of St Columba of Iona, and it was Celtic monks who were probably the first evangelists of Shetland.
A YouTube video made up of photos from the pilgrimage will be found on the Photos page.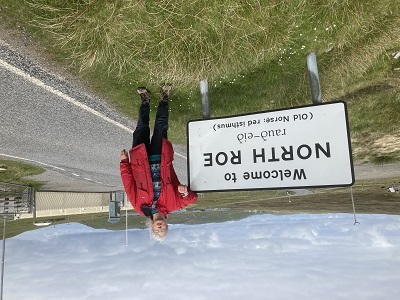 Year of St Joseph
The prayer associated with the Plenary Indulgence is "To you, O blessed Joseph" (Ad te, beate Ioseph).
To you, O blessed Joseph, do we come in our afflictions, and having implored the help of your most holy Spouse, we confidently invoke your patronage also. Through the charity which bound you to the Immaculate Virgin Mother of God and through the paternal love with which you embraced the Child Jesus, we humbly beg you graciously to regard the inheritance which Jesus Christ has purchased by his Blood, and with your power and strength to aid us in our necessities.
O most watchful guardian of the Holy Family, defend the chosen children of Jesus Christ; O most loving father, ward off from us every contagion of error and corrupting influence: O our most mighty protector, be kind to us and from heaven assist us in our struggle with the powers of darkness.
As once you rescued the Child Jesus from deadly peril, so now protect God's Holy Church from the snares of the enemy and from all adversity; shield, too, each one of us by your constant protection, so that, supported by your example and your aid, we may be able to live piously, to die in holiness, and to obtain eternal happiness in heaven. Amen.
LITANY OF ST JOSEPH
Lord, have mercy on us.
Christ, have mercy on us.
Lord, have mercy on us.
Christ, hear us.
Christ graciously hear us.
God the Father of Heaven, have mercy on us.
God the Son, Redeemer of the world, have mercy on us.
God the Holy Spirit, have mercy on us.
Holy Mary, pray for us.
St Joseph, pray for us.
Illustrious son of David, pray for us.
Light of patriarchs, pray for us.
Spouse of the Mother of God, pray for us.
Chaste guardian of the Virgin, pray for us.
Foster father of the Son of God, pray for us.
Watchful defender of Christ, pray for us.
Head of the Holy Family, pray for us.
Joseph most just, pray for us.
Joseph most chaste, pray for us.
Joseph most prudent, pray for us.
Joseph most valiant, pray for us.
Joseph most obedient, pray for us.
Joseph most faithful, pray for us.
Mirror of patience, pray for us.
Lover of poverty, pray for us.
Model of workmen, pray for us.
Glory of home life, pray for us.
Guardian of virgins, pray for us.
Pillar of families, pray for us.
Solace of the afflicted, pray for us.
Hope of the sick, pray for us.
Patron of the dying, pray for us.
Terror of demons, pray for us.
Protector of Holy Church, pray for us.
Lamb of God, Who takes away the sins of the world,
Spare us, O Lord!
Lamb of God, Who takes away the sins of the world,
Graciously hear us, O Lord!
Lamb of God, Who takes away the sins of the world,
Have mercy upon us!
V/. He made him the lord of His household.
R/. And prince over all his possessions.
Let us pray.
O God, Who in Thine ineffable Providence didst vouchsafe to choose Blessed Joseph to be the spouse of Thy most holy Mother, grant, we beseech Thee, that he whom we venerate as our protector on earth may be our intercessor in Heaven. Who lives and reigns forever and ever. Amen.
Our Father.
Hail Mary.
Glory be.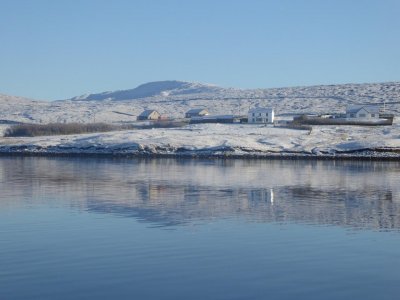 Year of St Joseph, 8th December 2020 - 8th December 2021.
The Holy Father has issued an Apostolic Letter, "Patris corde" ("With a Father's Heart") to launch the year of St Joseph. The official Vatican text is given below:
papa-francesco-lettera-ap_20201208_patris-corde.pdf
Midnight Mass at St Margaret's, 25th December 2020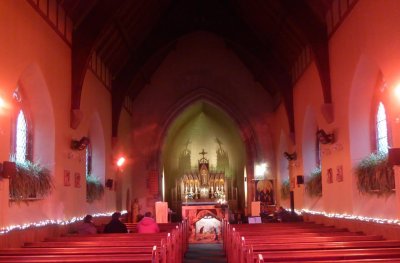 The Church before people started to arrive. The red glow comes from the Quartz heaters. In place of sung carols this year we had musical versions played by the music group on organ, guitar and Shetland fiddle.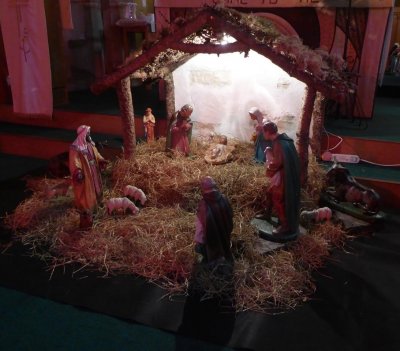 Our crib set has been a part of the parish Christmas celebrations since the Jesuits took over the parish in 1954.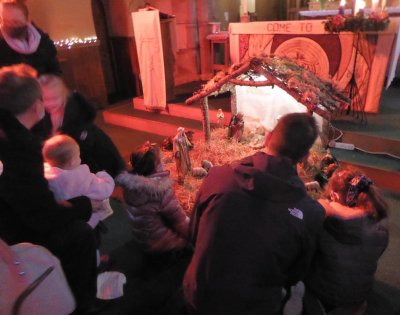 Second Concert for Africa, 12th September 2019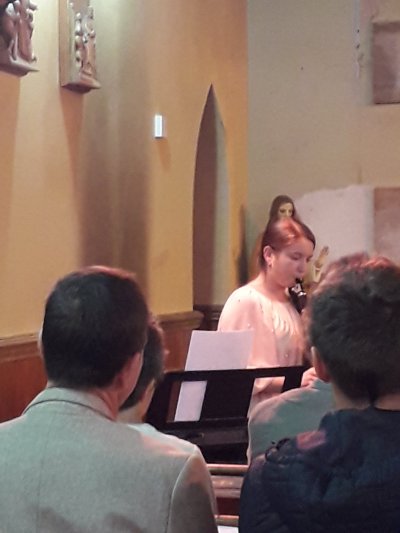 We held a fundraising concert for the four Ghanaian students our parish are sponsoring through their tertiary education in the form of a "Songs of Praise" evening of hymns and poems. It was a huge success and raised a total of GBP 864.50 for the Education Bursary Fund. Since we began fundraising in September 2018 the parish has raised over five thousand pounds for this cause. More details of the students we are supporting will be found on the Africa Fund page. (See link in sidebar).
This evening concert was also the first time we used our new wall-mounted quartz heaters in the church. These were bought from money left to the parish by the late Wilma Laurenson of Lerwick.
Summer Pilgrimage to Bressay, 14th August 2019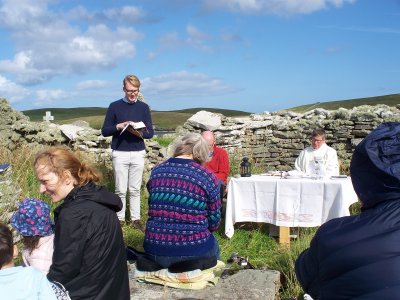 We celebrated a Vigil Mass of the Assumption of Our Lady in the medieval ruins of St Mary's Church, Cullingsburgh, at 3p.m. on Wednesday 14th August. This was an early Christian site and the 10th Century Bressay stone was found near here in 1852. We were blessed with fine weather and had a splendid day on the island. We were joined by Deacon Paul Rooney from Liverpool and seminarian Aidan Matheson from Scots College, Rome.
Seminarian on Summer Placement in Shetland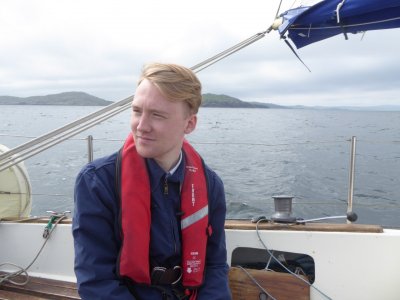 Aidan Matheson, who has just completed his first year of studies at Scots' College, Rome, was with us from 17th July until 27th August. He assisted with various apostolates around the parish and half way through his stay went sailing with parishioner Marsali Taylor. This photo was taken near Vementry. We wish Aidan well with the remainder of his studies in Rome.
Chapel for one opens on Yell
Parishioners Anne and Peter Dobbing have opened an inter-faith chapel in the grounds of their B&B at Gutcher. The "Sixteen Chapel" has been constructed from recycled and gifted materials and has caught the imagination of the press since it is large enough only for one person. An article in "The Times" credits it with being the U.K.'s smallest chapel.
The chapel was blessed by Fr Ambrose on 1st June during an inter-faith garden party. It is open daily to anyone seeking a place for quiet prayer or contemplation. Location: The Old Post Office, beside the ferry terminal, Gutcher, Yell.
Fr William Damah preaches Mission Appeal, 12th May 2019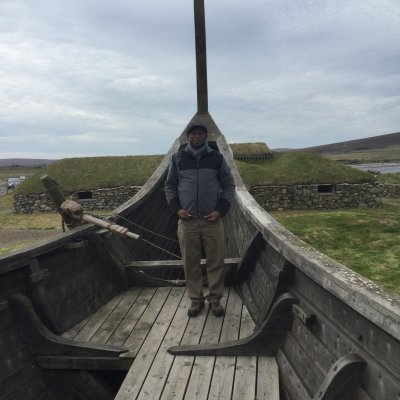 Fr William Damah, originally from Ghana but now working in the Diocese of Motherwell, preached at all Masses on 12th May on behalf of the Spiritan Missionaries working in Ghana. The appeal raised GBP 366.73.
On the following day we made an excursion to the island of Unst, the northernmost point of the British Isles. Fr William is pictured here on board a replica Viking ship at Haroldswick. The longboat was built with the intention of recreating a Viking voyage from Sweden to America and sailed as far as Shetland before being found unseaworthy! It has now taken its place in a display of Viking heritage in Unst.