Events
Unstfest Mass
There will be an extra Mass on Sunday 22nd July at 5.p.m. at Haroldswick Methodist Church, Unst. This will replace the evening Mass in Lerwick. Unst Fest is Britain's northernmost Festival. It runs from 14th - 22nd July. More details on their website: www.unstfest.org
Seminarian Coming to Shetland for Pastoral Placement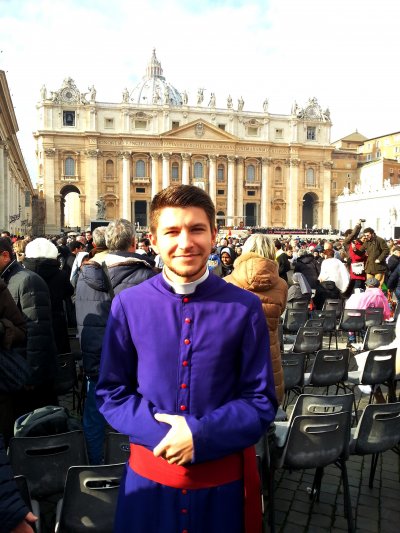 We are happy to hear that the bishop will be sending a seminarian from Scots College Rome to us for his pastorals during the summer vacation. The provisional dates are 2nd August to 16th September.
I will let him introduce himself:
"My name is Christopher Doig, I am a half-Scot-half-Pole, studying at the Pontifical Scots College in Rome. I was born in Perth and my family home is in a small town called Blairgowrie. I am currently in my fourth year and have received the ministry of acolyte. My main interests are hillwalking, reading, cooking and playing guitar."
Holiday / Retreat Cottage in Largs
The Benedictine nuns of Largs have a cottage available for retreats or low-cost holidays on the coast. The cottage can sleep up to seven people and is available at a cost of 150 pounds per week, self-catering. Details are given in the pdf files below:
Lourdes Youth Pilgrimage, 6-11 October 2018
This event is being organised by the Dominican Sisters in Elgin. Further details below:
World Youth Day, 2019, Panama City
The only Scottish representation will be by Paisley Diocese. If you wish to attend please make contact with that diocese through their website.