Lerwick RC Parish Church
Welcome to the northernmost Catholic parish in the British Isles.  The parish of St Margaret and the Sacred Heart, Lerwick covers the entire Shetland Islands and also serves the pastoral needs of the oil and gas industry, and ships putting in to Lerwick Harbour.
Mass Times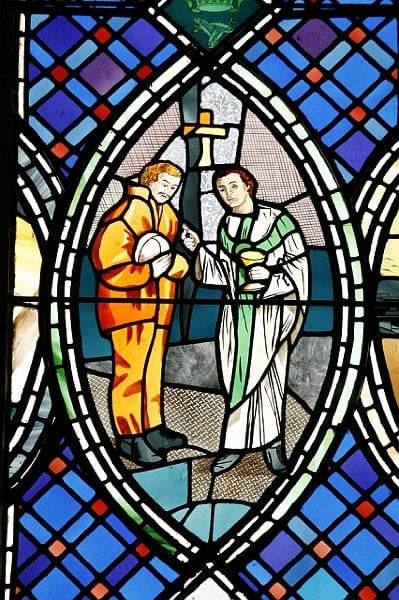 Vigil Mass,Saturday: 5 pm.
Sunday: 10.30 am and 7.30 pm.
Monday: No Mass.
Tuesday: 10.30 am in the Chapel
Wednesday: 6.45 pm in the Chapel
Thursday: 1 pm in the Chapel
Friday: 5.15 pm in the Chapel (preceded by Eucharistic Adoration at 4.15 pm)
Saturday: 11.30 am in the Chapel (preceded by the Rosary at 11 am on the first Saturday of the month)
Confessions: Saturday 4.15 - 4.45 pm in the Sacristy and at call.
Parish Room & Chapel of Our Lady of Czestochowa
Weekday Masses are held in the Chapel within the Parish Room adjacent to the Church. The parish room is normally open from 8.30 am until dusk in winter, and until 8 pm in summer. There are books, newspapers and facilities for making tea and coffee.
"despecta est et Thule"
The Roman historian Tacitus says that Agricola, while circumnavigating Britain, "caught sight of Thule". Shetland can put in a good claim to be the 'Ultima Thule' ('Furthestmost Thule') of ancient geographers, which became an almost mythical place at the end of the world.
It is certainly remote: 596 miles from London, 400 miles from the Arctic Circle, about 200 miles from our nearest port cities of Aberdeen in Scotland and Bergen in Norway. But in recent years Shetland has attracted many incomers whose presence has strengthened the Catholic Church here in a place with a Catholic history which is now at least thirteen centuries long.
Distances are relative. For many Catholics, this is home. Some visitors can spend only a day here as a port of call on a journey to somewhere else. While for some intrepid cyclists, Shetland has become the goal at the end of the 3,692 mile North Sea cycle route EuroVelo 12.
We hope that all of you will find a warm welcome in our Church community of St Margaret's Parish.
"Welcome to Shetland!"