Brownie Barnes, RIP
Brownie (Cecila) Barnes died on Sunday 6th February at the age of 89. May she rest in peace!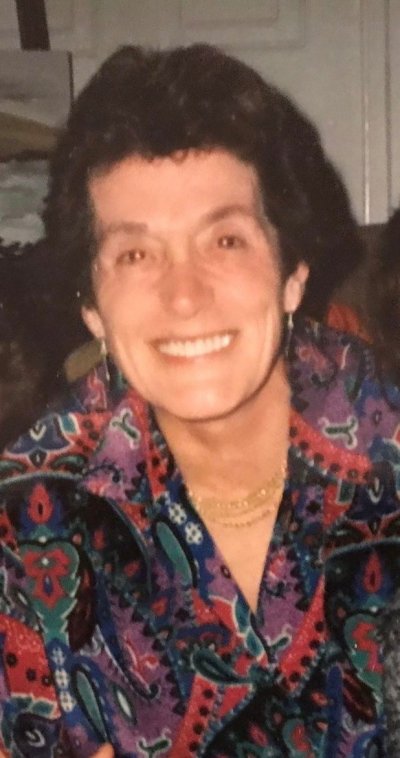 The following is the eulogy given at Brownie's funeral by her daughter, Grace Barnes:
There are so many words that can be used to describe the woman that Celia, Norah and myself knew as Mum (and Nana), but who you all knew as Brownie. And words were something that Mum loved. Books, poems, crosswords … hers was a life filled with words. These are just a few which I have heard used in regard to Mum in the last few days. Witty. Kind. Feisty. Talented. Gracious. Wonderful. Irascible. Charming. Intelligent. Encouraging. Glamourous. And my favourite, formidable. Mum always claimed that she would duck into the nearest empty cupboard or classroom if she saw Nessie heading towards her in the Anderson … but I suspect it was the other way around. A question that is often asked about Mum is, why was she called Brownie when her given name was Cecilia? Well, the story she told, is of being a little girl on holiday in Ireland with her father's large and unforgettable family, the O' Flahertys. Watching the then three-year old, Mum, playing on the beach, one of the Aunts noted her suntan (even then) and declared that Cecilia was much too big a name for a child, and Mum was a little Brownie. And the name stuck.
Mum was born in Glasgow in 1932, and attended St Joseph's Convent in Girvan, before going on to Glasgow University to study English. At University she met Robin and they were married in 1962 and moved to Edinburgh where Celia, Norah and I were born. In 1972 we moved to Shetland where Mum quickly established herself within the community. She played badminton every week at St Clements Hall and squash at Islesburgh. She was on the committee of the Shetland Arts Society, a group which brought classical musicians up to Shetland to play concerts at the Town Hall. When the swimming pool opened on the Hillhead, Mum began a relationship which developed into one of the greatest loves of her life: swimming. She was a volunteer with the Lerwick Amateur Swimming Club and acted as timekeeper for Inter County. And for almost three decades she was a volunteer with the swimming classes run by Ability Shetland. Mum was still swimming regularly until she had the stroke three years ago and she is fondly remembered by the staff at Clickimin; Anne and Linda told me last week that Brownie always made them laugh.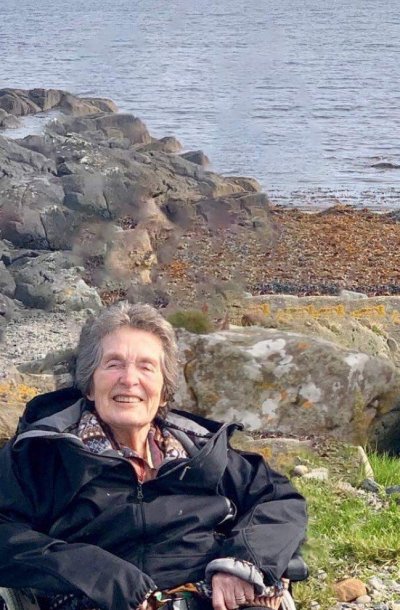 Mum loved to entertain, and she was the life and soul of parties with the drama group and at Greenfield. She was, as Jessie remembered, a very glamourous addition to the Kvelsdro lunch set. She had a great sense of style - who can forget the white platform shoes? She was a skilled dressmaker and would waft in on a cloud of 'Blue Grass' perfume on her way out to the Lifeboat Ball in another wonderful, gold lame creation she had made for the occasion. She loved fancy dress and her skill on the sewing machine was evident every year on Gala Day when a willing, youngest daughter and not-so-willing, Inkster neighbour stepped out in the fancy dress parade in another one of Mum's feats of the imagination. Mavis reminded us of Nessie's medieval themed retirement party when Mum appeared as a serf and spent the evening carrying around a real pig's head on a plate.
Brownie's creativity could also be seen in the themed cakes she made for the Islesburgh Drama Group panto. The clock for 'Hickory Dickory Dock' was a triumph of engineering, but the icing on the cake celebrating 'The Grand Old Duke of York' didn't set in time and the 10,000 men slid down the hill and lay in a defeated heap at the bottom. Mum was, of course, a teacher and for almost forty years she taught English, not just at the Anderson High School – also at Brae, Whalsay and Scalloway. She had some unorthodox methods of maintaining discipline: quite a few people have mentioned the well-aimed piece of chalk that came flying across the classroom. Brownie hated social injustice and firmly believed that everyone should have the chance to shine. Perhaps that's why she had such a passion for adult education: the number of people who say, 'she got me through my higher English' is a testament to her commitment. When she retired, she tutored a new generation and relished the opportunity to share again the intricacies of 'Dulce et Decorum Est', and 'Death of a Salesman'. Her love of learning never diminished, and she did so many Open University courses that I used to tell her she must have a PhD by now. She loved to study the ancient civilisations – the Romans, the Mayans and the Egyptians. I have a clear memory of visiting the ancient Turkish city of Ephesus, and Dad and I laughing because Mum kept correcting the tour guide. Mum did struggle after Dad died, but when she moved to Thorfinn Street, she found a whole new community and talked delightedly of the fun nights she had with the neighbours who would come round to eat meringues and cream and sing songs around the piano. Brownie was an accomplished pianist and the three of us fell asleep many a night listening to Mum and Dad playing duets in the next room. Mum also played duets with Dierdre and with Cyril, and she played the organ here in St Margaret's for evening Mass for decades: one unsuspecting priest once made the mistake of changing Mum's choice of hymns. Suffice to say, he never did it again. She also never missed a folk festival and loved having the visiting musicians to stay in Greenfield.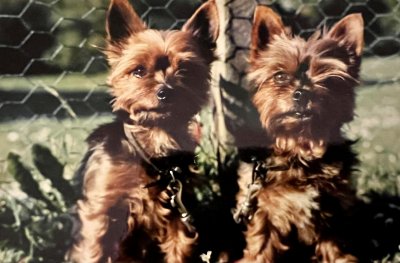 Brownie is known to many folk in Lerwick as 'the wife wi da peerie dugs'. She had a succession of Yorkshire terriers and when Tammy and Beanie were puppies, she sewed pockets into her jacket and popped them inside. She would then go down to the street with the two peerie heads sticking out of the top of her parka. When she moved into ET House, we regularly borrowed dogs to take in to see her. In her final weeks, Frank very kindly lent us Frankie and Oskar, tiny Papillons, to lay on her bed so she could stroke them. 'Lovely' she managed to say. On Mum's birthday during lockdown, Maggie Kay and Melanie rounded up a small pack of dogs and sat them on the wall outside ET House all wearing party hats. And Mum couldn't have been happier.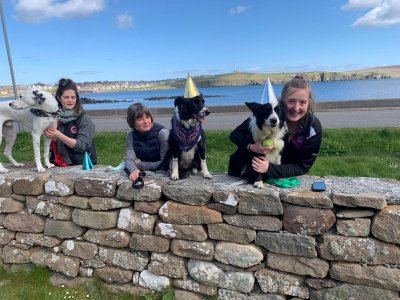 Other things that Mum loved are an eclectic mix. The Mediterranean sun. The Last Night of the Proms. The Sound of Music. Chitty Chitty Bang Bang. The Grand National. Amusement arcades. The novels of Ursula le Guin and Rumer Godden. She loved Glenn Miller. Vera Lynn. Over the Rainbow. She loved ice cream and aniseed. Inspector Morse and Gene Kelly. Brass bands and line dancing. She loved card games - spent endless hours playing patience on the computer - and taught us to play whist. She was a long-standing member of the Lerwick Bridge Club. She loved theatre. Musicals. Puzzles and board games. Dad's Army. She loved Frank Sinatra, which was apt, given that Brownie was someone who absolutely did it Her Way.
There are so many people to thank, particularly in the last three and a half years when Mum was at ET. The visitors, the dog walkers who always waved when they passed. The wonderful staff who not only cared for Brownie with kindness, but with great love, and who ensured that her last years were happy and free of the anxiety which had plagued her. There are no words to thank Julia, Wendy and Alan who were with Mum at the end. It is our duty as a community to ensure that the dedicated and committed people who care for our elderly and our vulnerable are given the support, emotional and financial, that they so richly deserve.
As Father Ambrose said last night, this is a life complete. A full and well lived life, by someone who touched many people. And many dogs. I'm going to end with lyrics from a song that Mum loved. It's from a musical named 'Wicked', and these words sum up how we feel about that feisty, fun, glamourous and intelligent woman we knew as Mum. And you knew as Brownie.
I've heard it said
That people come into our lives
For a reason
Bringing something we must learn
And we are led to those
Who help us most to grow if we let them
And we help them in return
Well, I don't know if I believe that's true
But I know I'm who I am today
Because I knew you
It well may be
That we will never meet again
In this lifetime
So, let me say before we part
So much of me
Is made of what I learned from you
You'll be with me
Like a handprint on my heart
Like a ship blown from its mooring
By a wind off the sea
Like a seed dropped by a sky bird
In a distant wood
Who can say if I've been changed for the better
But because I knew you
Because I knew you
I have been changed for good.
---
Other posts