Christopher Doig in Shetland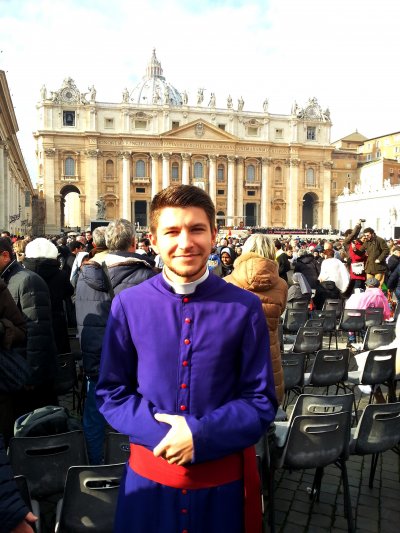 Christopher Doig, a seminarian at Scot's College, Rome, spent six weeks with us in the summer for his Pastoral Placement, 2nd August - 10th September 2018. He writes here of his experience in Scotland's northern-most parish: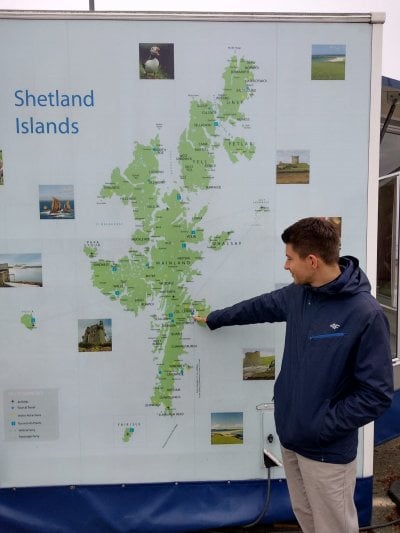 This year's placement was unlike any other I've had in the past. The most exciting part about going to Shetland was the idea of taking a boat three hundred and fifty miles north. I got a great sense of freedom, abandonment and adventure as I looked back from the boat seeing Aberdeen in the distance under a blanket of grey cloud. It was the longest boat trip I have ever made; fortunately, the waters treated me well and it was a rather smooth journey. The way back, however, was another story.
Having slept for only four hours, I got off the boat at Lerwick harbour in a somewhat awakened state and went straight to the kitchen to help prepare refreshments for a funeral gathering. I really hit the ground running. It was a graceful day and I could see God at work.
I wasn't quite sure what to expect for my placement because it is so different from any other place I have been to, but on that first day I was confident that it was going to be the highlight of my summer. When packing my case, I decided to bring three very important items. One of them was Dante's Divine Comedy. I thought that I would have a lot of time to read so that was a book I would get through in six weeks. In reality, I only just made it out of hell and began the ascent to purgatory (in no way did this reflect my time on Shetland - far from it!) Secondly, my sandals had to come too - I literally take them everywhere. As the weather was fantastic, they served me very well for my stay, apart from one or two days when I went walking on boggy land. And thirdly, I decided to take a kilogram of peanut butter just in case I didn't find any up on Shetland; to my surprise they had it in abundance and so it became a huge part of my island diet. It is rather good in a bowl of porridge and it even made its was into a curry when I was asked to cook one day.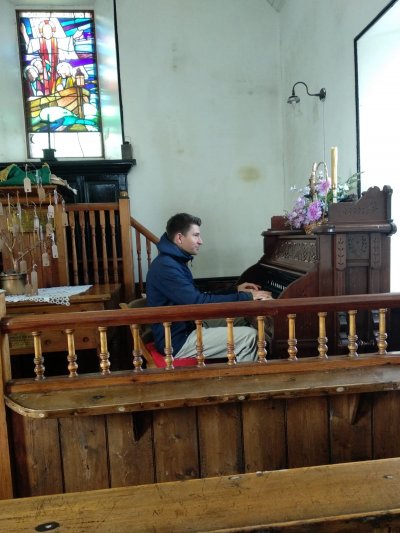 It was a very rewarding experience in the parish, especially now that I am an acolyte and have been given more responsibilities in serving the Church. Fr Ambrose and I made visits every week to the hospital, to one of the care homes and to see an elderly couple. I also got the chance to give a four-part Bible study on the Book of Jeremiah, something which was quite fresh in my mind after studying a course on the prophets earlier in the year. It was a great honour to lead Polish devotions for the Solemnity of Our Lady of Czestochowa in the small chapel where an icon of Our Lady rests. We sang the Marian hymn Czarna Madonna (Black Madonna), prayed the rosary and sang the Litany of Loreto.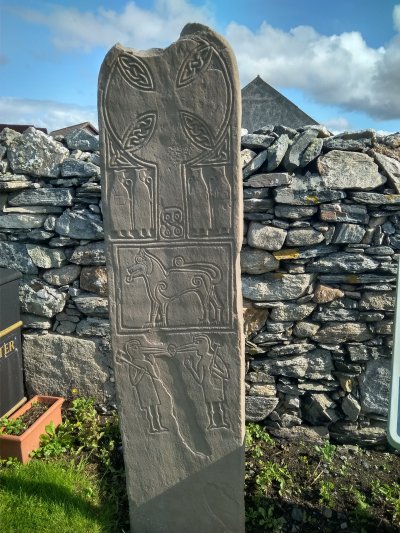 Outside of parish work I was fortunate enough to have some time to explore some of what Shetland has to offer: Fr Ambrose and I went to see the Papil Stone on Burra,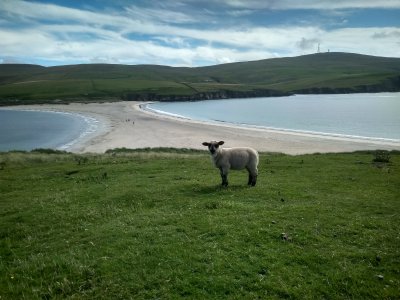 walked across the tombolo at St Ninian's Isle, and made a boat trip to Whalsay where we did a walk round the coast and bumped into some Neolithic ruins humbly resting among the heather.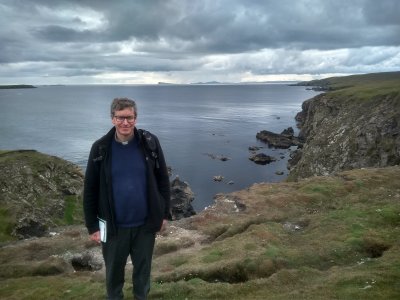 I was very struck by the beauty of the isles: the breathtaking views of sea-battered cliffs; the vast, open landscapes and the almost Caribbean-like beaches: I walked across many of them barefoot and even dared to dip my feet into the water - a pleasantly numbing experience.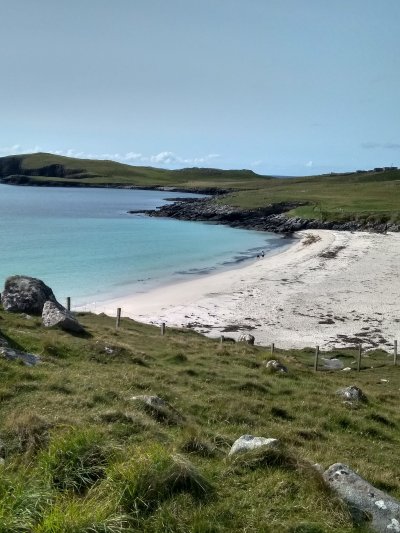 I was particularly drawn by the beauty of Shetland's wildlife - the soaring skuas and the gliding gulls, but especially the pretty puffins;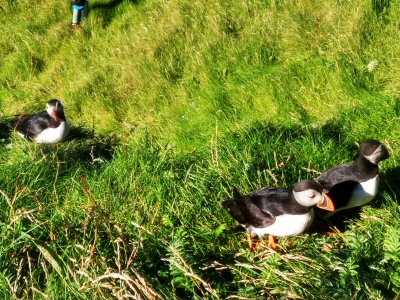 the ponies too!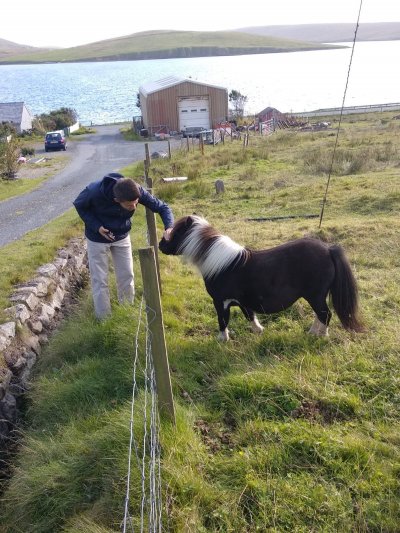 I remember from my childhood that I got to go on one as my neighbour owned a horse stable and lots of horses; it was amazing to see the various colours of sheep I hadn't seen before. Most of them ran away from me but some were curious when I would pass through their field praying the rosary.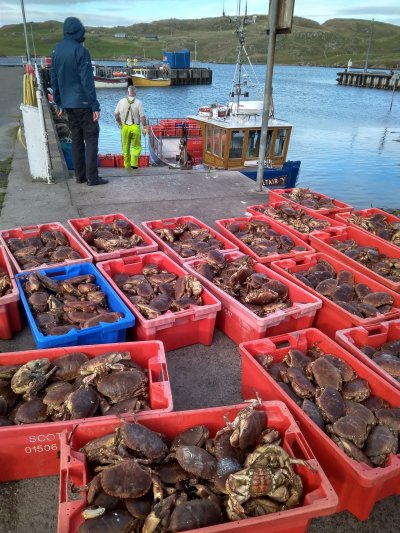 Some of the highlights of my time there were a visit to the impressive volcanic cliffs at Eshaness with Teresa, a Polish parishioner. We had a marvellous day of long walks along the coast at Hillswick and a picnic to give us strength for another walk up Eshaness.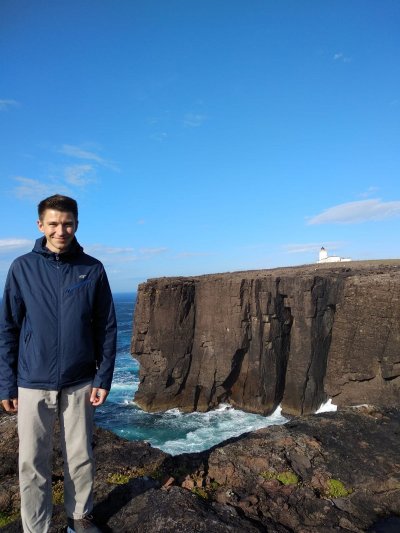 Another great day was going out with Willie to see the Old Croft House Museum, followed by fish and chips for lunch down at Sumburgh. And how could I forget Marianne's exquisite culinary concoctions - the spicy stew with chestnuts and the marvellous Mexican burritos!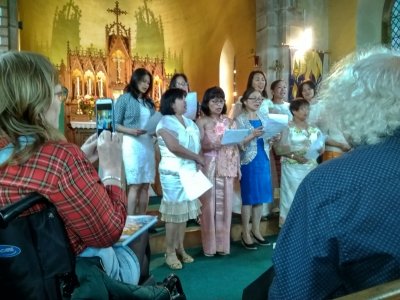 My last two days were particularly memorable and a fitting way to conclude my time on Shetland. On Saturday 8th September we had a fundraising concert for students in Ghana and everyone in the parish played a huge role in making it such a success. There were Philippine songs, a piece from Handel's Messiah, recited poetry, Polish hymns, English folk songs and Spanish guitar. Following the concert, we had a great feast in the parish rooms which was like a taste of heaven itself: all nations gathered together around the table enjoying a plethora of dishes - fish chowder, butternut squash soup, a whale-sized salmon surrounded by a colourful salad, coconut and mango cake, caramel rice pudding and Polish donuts, just to name a few of them. Some of the leftovers made it into our lunchboxes for the next day when we went sailing around the island of Papa Little.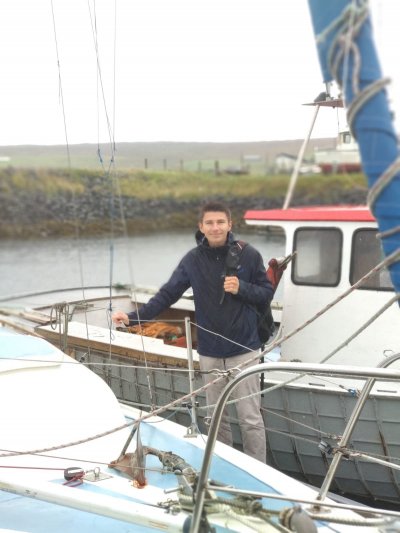 After Mass on Sunday we drove out to Aith harbour where we set out on our sail under a grey sky. Under the brilliant direction of Captain Marsali we moved gracefully on the peaceful waters with a crew of four and a dog.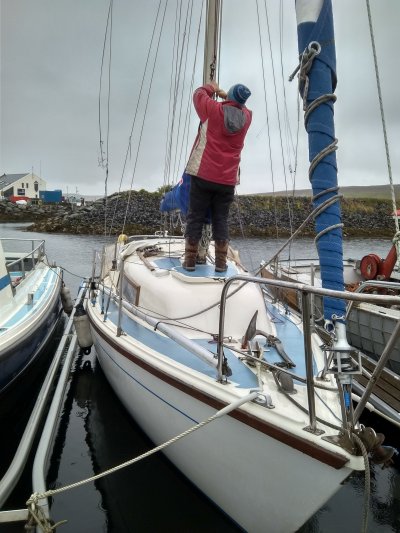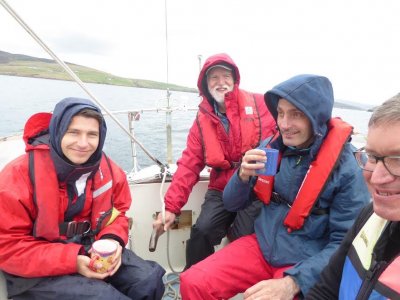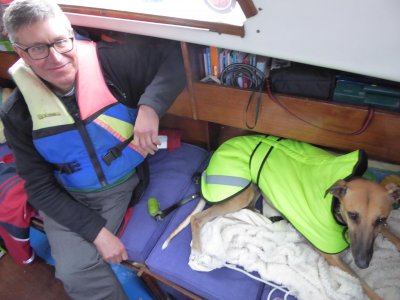 As the waters got rougher at the top of the island and the rain came on - as had been forecast - and the wind picked up, we were forced to return in zigzags until the sails came down and the engine was turned on. We did manage to have a bite to eat and a cup of hot chocolate before we got drenched.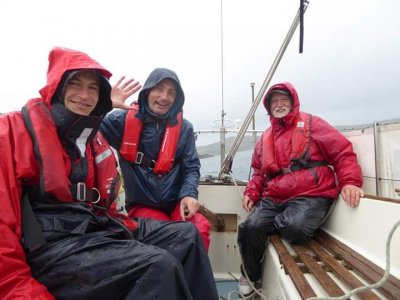 To this day I still think about the experiences I had on Shetland, the people I met and all the graces received. It was a very special part of my formation to the priesthood and would love the idea of coming back to serve them there one day in the future. I give thanks to God for all of you who made that time so blessed and joyful. Shetland will be in my heart always.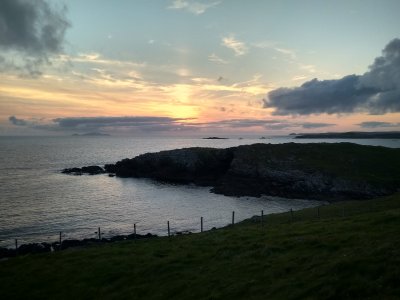 ---
Other posts