Pat & Mike Loynd's Golden Wedding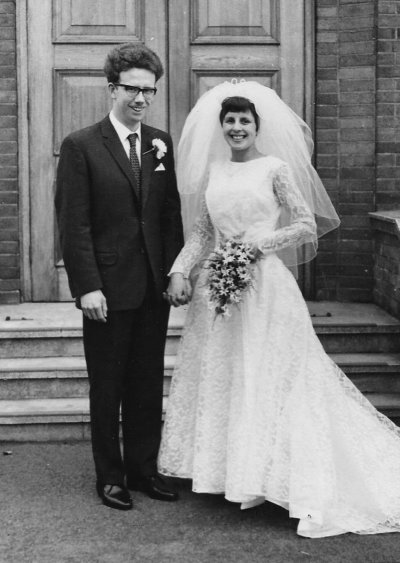 Mike and Pat were born and grew up in the same part of Preston in Lancashire, just around the corner in fact, but they can't remember meeting each other. Although they both worked for their parish in very different ways, Mike in stage management for the Drama group and often as caller for the Bingo in the parish hall, and Pat as Secretary for the Legion of Mary and as Parish Catechist, they only met each other in the sixties.
They started going out together in the late Autumn of 1965. Their first date was at the Locarno Ballroom in Blackpool which was Mike's Annual Works Dance. They were engaged on Pat's twenty-first birthday in April 1966. The next few years were spent climbing, and walking with a group of friends in the Lake District, fishing, taking part in archaeological digs, working and saving for their future home. Mike was working at the Atomic Energy authority as a Radio Chemist working with low level Radio Active material. Pat was working as a Teacher's Assistant in the Kindergarten at Woodlands School, Preston.
Mike got a new job in 1966 as Assistant Keeper of Conservation at Liverpool Museum. Pat was working in Burns & Oates Catholic Bookshop in Liverpool dealing with orders from various schools and colleges in Liverpool and the surrounding area. They bought their first house in Burscough, which was on the railway line to Liverpool, in the summer of 1967.
They were married on 24th February 1968 at the Blessed Sacrament Church, Ribbleton, Preston.
In January 1970 they moved from Burscough to Wetherby in Yorkshire as Mike had got a job as Keeper of Antiquities for Yorkshire and Humberside. Their first two children were born during this time at Harrogate Hospital. Mark in February 1971, and Damian in May 1973. Megon, a Golden Cocker Spaniel puppy came to join the family in Wetherby, but sadly died after being with them for a short time in Leeds.
They left Wetherby to live in Leeds when Mike became Director of the Museum Service for Yorkshire and Humberside as it was nearer the station and also to his place of work. Their two youngest children were born in Leeds, Claire in December 1977 and Michael in November 1979. Two dogs joined the family a Springer Spaniel puppy called Ticker which was her kennel name, and Rags a Border Terrier who had been left on the park in the middle of winter in the area where Mike had his offices. After spending a week with the RSPCA Rags came to live with them. He had a tremendous character and there are enough stories about him to fill a book.
They moved from Leeds to Shetland in 1987 to live at the Grind in Channerwick where they have been for the past thirty years. On Saturday 24th February Mike and Pat celebrated their Golden Wedding with a party at the Carnegie Hall in Sandwick and a very enjoyable evening was had by everyone.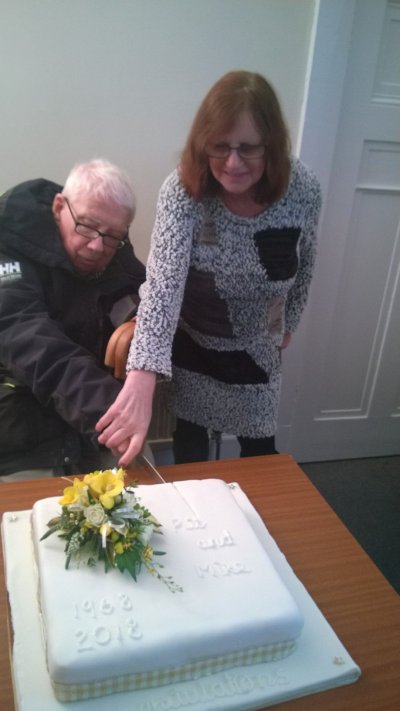 ---
Other posts