Wilma Laurenson RIP
This tribute was read by John McEvoy at Wilma's funeral in St Margaret's Church, Lerwick, on 25th January 2018.
Thoughtful as ever, Wilma left us detailed instructions for today's arrangements so, if anyone has any complaints . . . speak to Wilma when the time comes!!
Now then – what to say about our dear friend Wilma.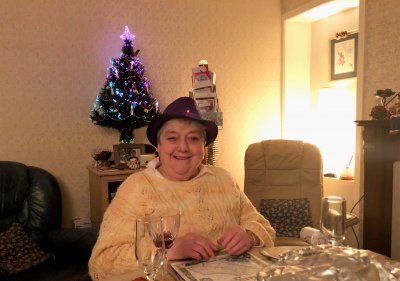 She was born on the 18th July, 1937 and left us peacefully and in a state of grace on Sunday morning, 21st January 2018.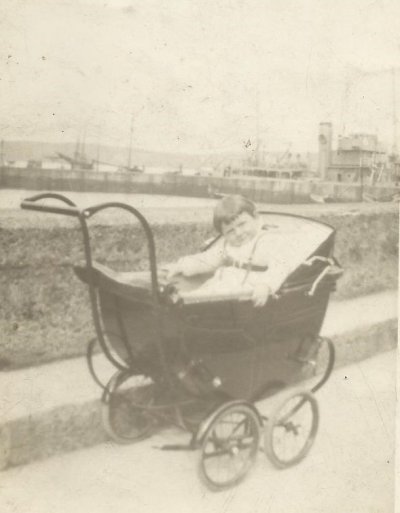 Wilma at two years of age, Lerwick harbour, July 1939.
Wilma was the only child of Catherine and Robert and was born and lived at 7 Church Lane, Lerwick by the Small Boat Harbour.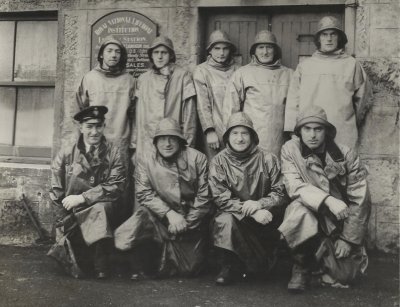 Wilma's father, Robert Laurenson (bottom left), was Engineer on the Lerwick RNLI boats in the 1950s and 60s.
In addition to her parents, she lived with her beloved grannie, who seems to have been her protector, co-conspirator and partner in crime, in her early childhood. She attended the Central School in Lerwick along with her life-long friend Willie Halcrow, who is here today. In 1951, the family moved to 5 Cairnfield Road, Lerwick, where Wilma lived for over 60 years.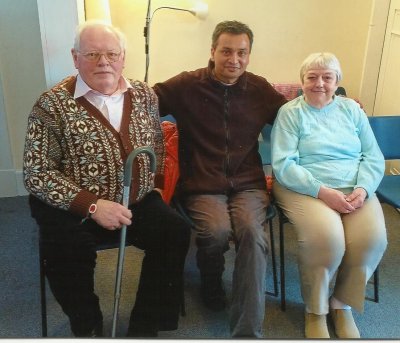 Wilma in her seventies with Willie Halcrow (left) and Fr Anil Gonsalves.
Wilma was employed in the retail trade initially, in D&G Kay's the drapers for 29 years and then, in the Garrett children's clothes shop for a further 18 years, before retiring. She made many close friends and colleagues during this time, including the late Isobel and Gordon Smith – with whom Wilma spent many a happy Christmas Day in Breiwick Road.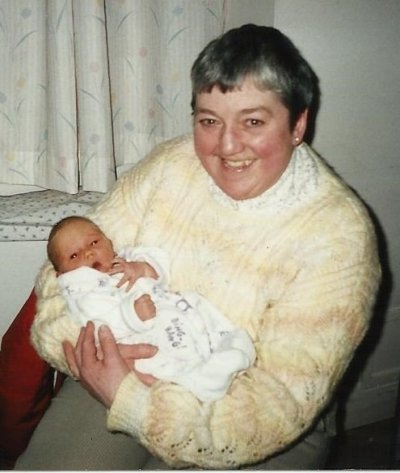 Wilma never married and without children of her own, she seems to have spent a lot of time babysitting other peoples. You could hardly walk down the Street with Wilma without being stopped by someone for a chat – often people she had looked after as bairns. You could be forgiven for thinking she had baby-sat every child in Lerwick born between 1950 and 1970 but, in truth, it was probably only half of them!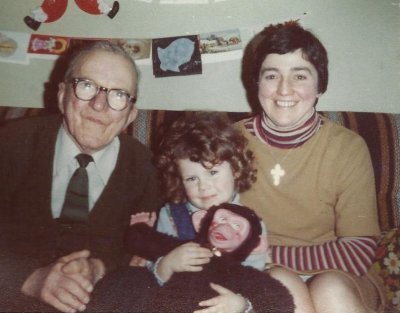 Wilma with her father and a young friend.
Always a devout Christian, having been brought up in the Church of Scotland, Wilma converted to the Catholic faith and was confirmed on 2nd April 1994 by Father Jim Hayes. Wilma helped Father Jim immensely, acting as book-keeper for St Margaret's and reading his correspondence to him as his eyesight failed.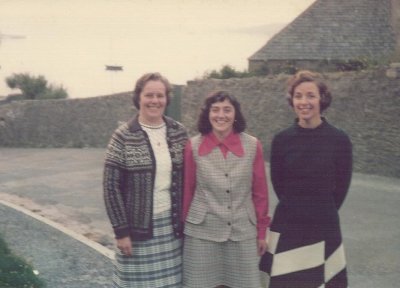 Wilma loved travelling and amongst other places, visited the south coast, Jersey, the Lake District and, of course, her family in Edinburgh. She also ventured much further afield to the Holy Land and made several trips to Canada to spend time with her devoted family in Ontario, including to the christening of her cherished goddaughter Emma. In recent years, along with friends from the parish,Wilma made pilgrimages to Rome, Lourdes and Knock.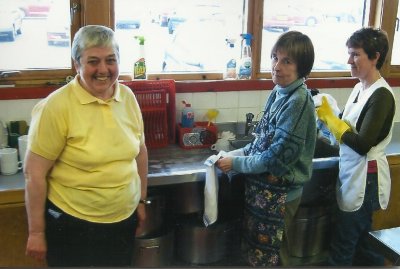 Wilma with parishioner Jennifer Keane.
In 2013, Wilma was finding it increasingly hard to manage the stairs at Cairnfield Road and after MUCH discussion, she moved into Flat 13 in King Erik House. Wilma was not always comfortable with change and although we felt she'd made the right choice, we were worried in case she might not settle - but we needn't have been concerned. Although number 13 might be unlucky for some, it certainly wasn't for Wilma. She just fell in love with her peerie flat, which she said was 'Just Perfect!'
The fact that Wilma settled into King Erik House so easily and was so very happy there was entirely due to the dedicated, caring attention of the staff, with whom she had such fun. Wilma certainly loved a fun!
Although Wilma had occasionally faced some difficult and dark days in the past, she came through them all and we had our old pal back once again – caring, impish, fun-loving and goodness itself.
Wilma had a smile to open every heart. We'll miss your lovely bright smile, Wilma!
God bless.
---
Other posts